LET US TRANSFORM YOUR PROPERTY
UPVC SPRAY PAINTING IN YORK
UPVC Spray Painting in York
We offer high quality UPVC spray painting in York. Hartwell Restoration Ltd are your local, trusted UPVC painters. We're experts in all aspects of UPVC spray painting. We're well-established and widely recommended by our customers, and we stamp our work with a 10-year guarantee.
Our work is characterised by its flawless finish. We'll make your UPVC look like new and extend its life for years to come. We always deliver a professional service and use the best materials to ensure a thorough and proper job.
We can spray paint all internal and external UPVC on your home. We paint windows, doors, door frames, fascias, garage doors, conservatories and everything in-between.
Why UPVC Spray Painting?
UPVC doesn't stay white. UV light fades it over time. Our UPVC spray painting services not only change the exterior colour of UPVC, but also form a protective barrier from UV light. This prolongs its life while giving your home a fresh new look. Our UPVC painters can spray your home any colour with a matte, satin or gloss finish.
So, if you're looking for a company to carry out high quality UPVC Spray Painting in York, contact Hartwell Restoration today!
Why Hartwell Restoration Ltd?
Because we know what we're doing. Following over 20 years in the industry, we've developed an efficient system for spray painting UPVC. This guarantees a perfect finish and no over-spray, guaranteed. Our paint will also never fade, crack or peel. We're the real deal.
We can spray paint your UPVC any colour you like. Most of our customers opt for black or dark grey which contrasts beautifully with red brickwork and stone. Whichever colour you have in mind for your home, we'll make it happen. And because we spray paint internal and external UPVC, we can offer a complete solution.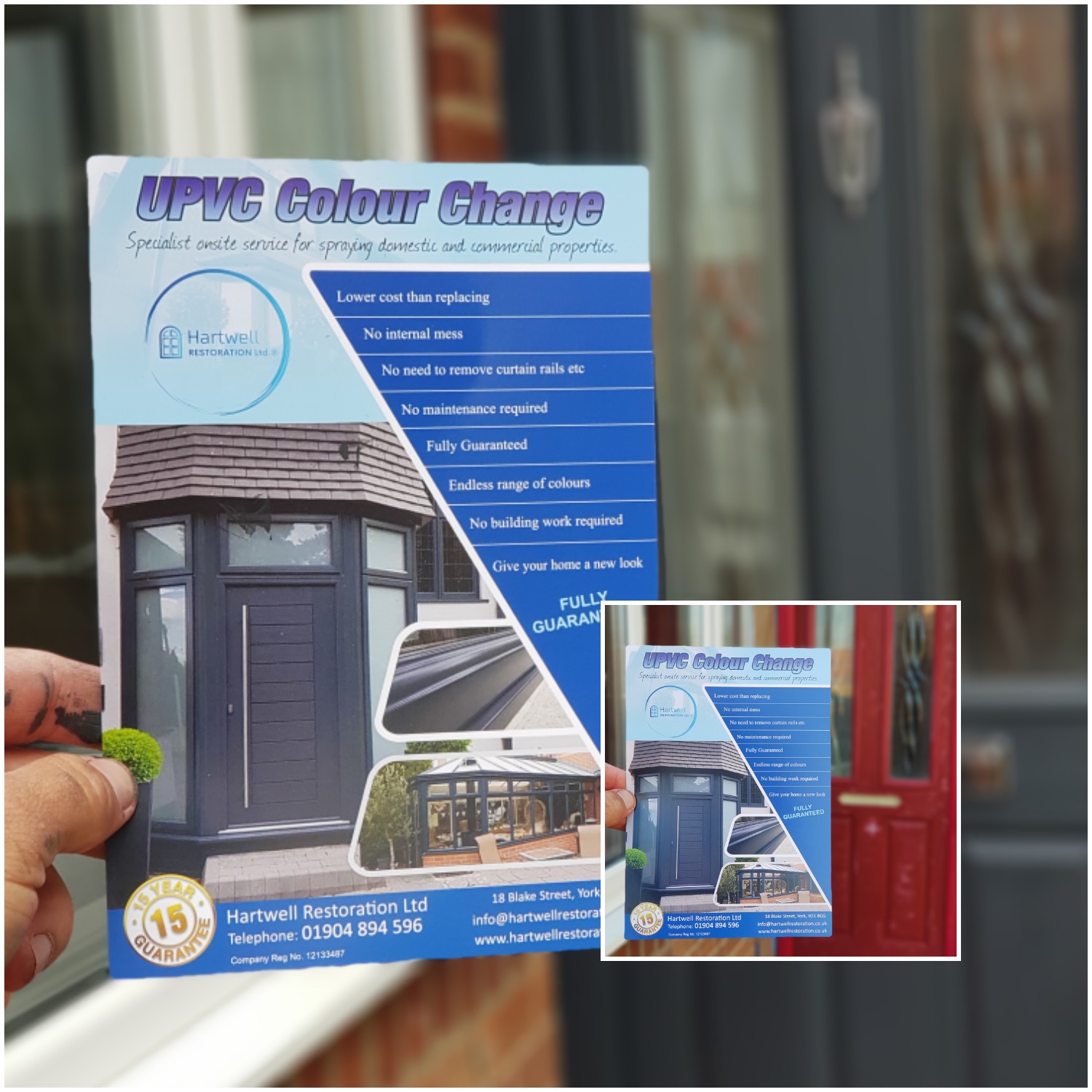 Use our home configurator design tool and change the brickwork, window, door and soffits shades to find your perfect colour .
This is for display purposes only, colours vary on LCD screens, so always check with a hard copy colour chart.

UPVC Window Spray Painting
We specialise in UPVC window spray painting.   Through our extensive experience and knowledge, we deliver a paint spraying service  for all homes no matter the size or condition of  UPVC.

UPVC Door Spray Painting
We're your local UPVC door spray painting experts. If your UPVC door is old or looks out of place, we'll change its colour for you. We offer a fast and affordable spray painting service for all homes.

Conservatory Spray Painting
If your UPVC conservatory is showing its age, we can restore it with a lick' of paint. The process is more complex than the expression suggests, but you get the idea.

Garage UPVC Spray Painting
If your garage door is made from UPVC, we can give it a fresh new look. We specialise in garage UPVC spray painting, offering a fast and effective service.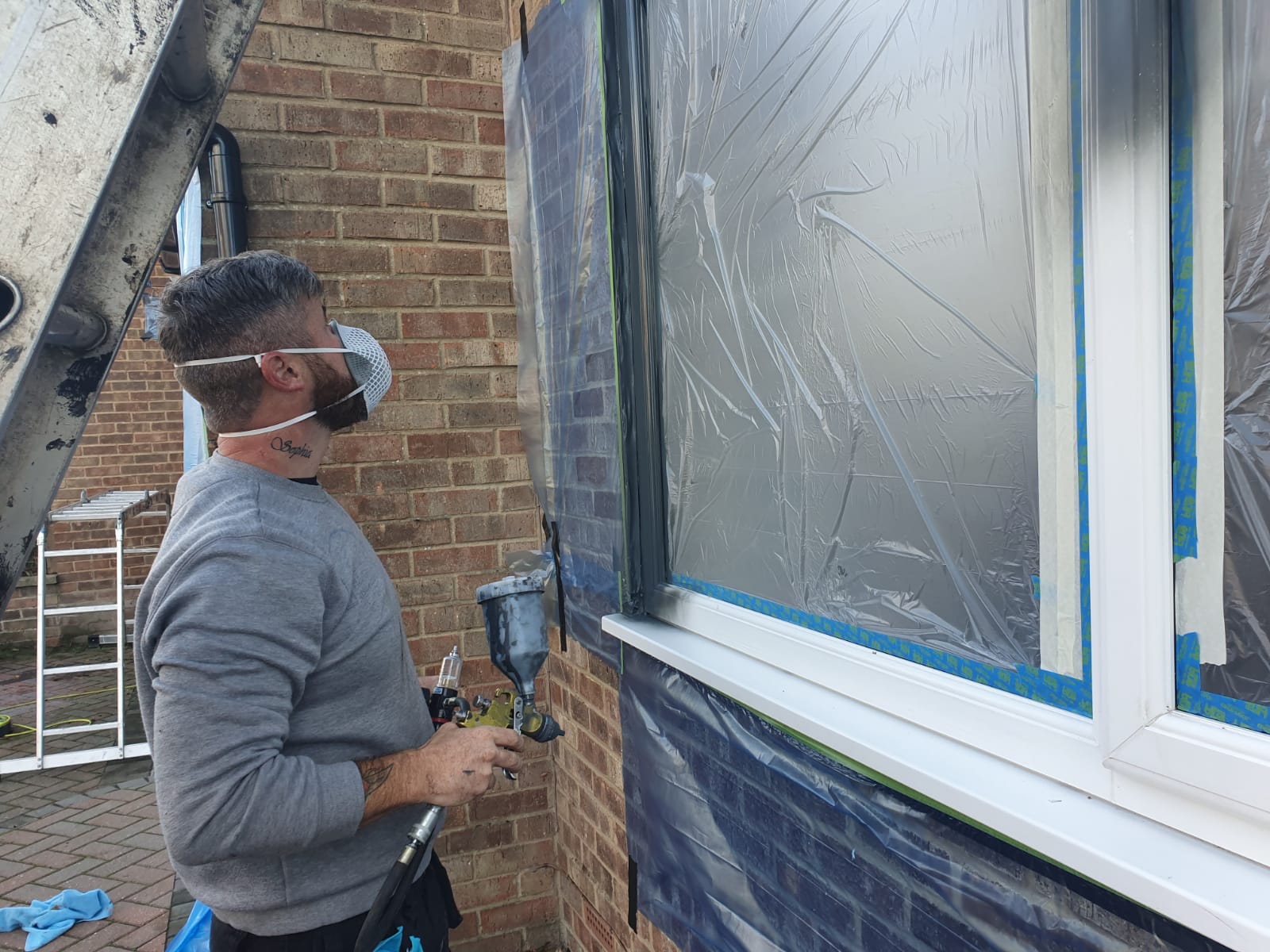 Contact Hartwell Restoration
Above all, you will find our UPVC painters courteous, polite and professional. We take great pride in our work. Contact us today to find out about our other services, as well as UPVC spraying we also carryout commercial work, kitchen resprays and also restoration projects.